We've crossed into North Carolina, but we covered a lot of ground during our month in South Carolina. Grab a sweet tea, load up your brisket with Carolina Gold, and let's dig in.
Charleston: as pretty as you think it is
Charleston spoils visitors for choice when it comes to things to see. It's a beautiful city with a gorgeous historic district that spans most of downtown. Other neighborhoods offer a woodsier or beachier vibe, depending on what you want to see. Our first night in town, we had local pints at a bar called the Tattooed Moose where a stuffed moose trophy stares at you with Christmas lights twinkling in his antlers.
We wandered around downtown and stopped to admire anything we'd seen on the 2018 Charleston season of This Old House. One neighborhood has a flock of helmeted guineafowl that wander around and stop traffic. They're definitely not local, but they annoyed an Amazon Prime driver, which endeared them to us. We still don't know how they got there.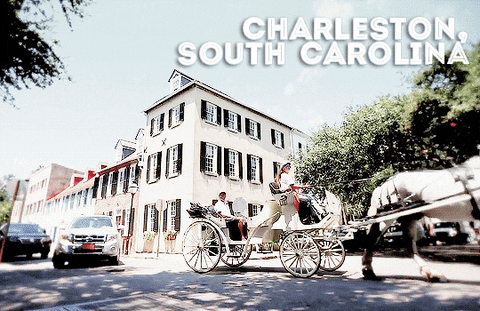 The nice part of walking around such a popular tourist destination is that there were tons of tours going on around us. Even though we didn't go on any specific tour, we caught snippets of facts and stories told by passing horse-drawn carriage drivers or walking guides. Did you know: the city was the first in the nation to have a playhouse and museum. Also, during the Revolutionary War, a Charleston fort built with palmetto logs withstood British bombardment. To honor its importance, the palmetto tree was added to the South Carolina flag we see today.
Charleston brings a strong food game. We watched some Premier League soccer while noshing on sweet and savory brunch goodies at Virginia's on King. And we grabbed some shrimp and grits at Another Broken Egg Cafe right across from the historic City Market.
Click the pic to see a bigger pic
One thing I really wanted to see was the Hunley, the first successful combat submarine and a thoroughly modern mystery. The Confederate ship attacked and sunk the Union warship Housatonic in 1864. Then it disappeared, and people searched for it and guessed at what had happened for the next 130 years. Had it sunk? Was it destroyed in the attack? Even after being raised in 2000 and studied for the last two decades, it's still not 100% clear what happened. For all our modern technology and insights into the past, we may still never solve the mystery of why the Hunley went down. At the museum, you can learn about the different theorized solutions and the evidence supporting them, and then vote for which one you think is right.
We also spent an afternoon at the South Carolina Aquarium. They have a massive ocean tank, great touchpools (I like supervised petting of wild animals), and a beautiful exhibit that highlights the landscape and natural diversity of South Carolina from mountains to coast.
Things we didn't get to but have bookmarked for next time: Fort Sumter as well as the wealth of historic civic buildings and estates in the area.
Columbia: Soda City
South Carolina's capital city proved a little nerdier than some of our recent destinations. On our quest to find a prequel comic book to Star Trek: Picard, we discovered Heroes & Dragons. The owner gave us some great tips on finding other geeky finds in the area like Firefly Toys & Games, an inclusive game store where we picked up starter D&D supplies.
In addition to some nerd culture, Columbia also has a funky art scene. Local artist Blue Sky has produced some larger than life installations around downtown. The main drag in downtown also has a lot to offer: unique restaurants, an independent movie theater, and on Saturdays the Soda City market which is a 2:1 ratio of tasty street food to local makers and artists.
You know me — I love a zoo. Riverbanks Zoo & Garden is absolutely lovely and well-designed. The animals were active and visible (never a guarantee, especially in winter). I didn't get to the botanical garden, but I did get licked by a giraffe.
Things on tap for a return visit: Soda City Comic Con (timing is important), some sort of collegiate sports event (they love their Gamecocks), and the greenwalks along the rivers.
RV checkup
Rexy and Alan weathered some high winds and 3 inches of rainfall last week. But despite the flash flood watch and tornado watch (do we go underground or over, make up your mind weather!), the rig suffered no ill effects save for getting extremely wet.
Several of the basement compartment hatch latches have broken. Replacements are on the way. Mark is learning how to use a hand riveter. How exciting, I mean, riveting!
Mark upgraded Alan's radio with something from this century. Now we navigate using a decent-sized screen instead from our phones propped on the narrow dashboard.
You know you want in on this radio rewiring project.
Lilly watch
This week's cat tax brought to you by Lilly, unimpressed by the local landscape
What's next?
We're in the Outer Banks area through next week. With the long weekend, we're hoping to take in some of the off-season sights. Kitty Hawk, the North Carolina Aquarium on Roanoke Island, and local beach-roving wild horses are all possibilities!
If you have any suggestions of things to see or questions about our travels or RV life, let us know in the comments.