It's still July, right? Just kidding–I can't believe Thanksgiving is tomorrow. I'm catching the blog up on the last four months in pieces–just because the last ~3,200 miles were a fun blur for us doesn't mean they should be for you. First up: Vermont. After a 2-week quarantine, we tooled around the Green Mountain State to see as much as we could during their brief yet brilliant summer season.
Summer wonderland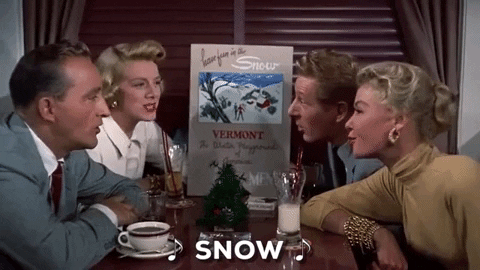 The train scene from White Christmas is what I think of when I hear Vermont, and that would be accurate if we visited there today–they're expecting a high of 30F. But back in yester-summer, Burlington VT experienced record-breaking heat with daily highs in the 80s and 90s. So, actually, it was a lot like White Christmas when Bing and Danny get to Vermont and it's sunny with no snow.
With a population of 214k, Burlington is the biggest metro in the state of Vermont. Bernie Sanders was mayor in the 80s, and the city is the birthplace of the band Phish (formed at the University of Vermont) and ice cream colossus Ben & Jerry's.
Everyone we know from the northeast has told us we should check out Burlington. It feels like a west coast city: there's a huge waterfront courtesy of the gorgeous Lake Champlain, a beachy vibe comes out through the warm summer sun, and the abundance and diversity of locally owned shops and restaurants reminds me of my favorite San Diego and Seattle neighborhoods.
Also it's weird, and we are here for it. It has the world's tallest filing cabinet, a lakefront sundial, a local water-loving cryptid (move over Nessie, make way for Champ!). There's a beautiful drive that takes you across some islands near the Canadian border across to Plattsburgh in New York state, and the most adorable car ferry brings you back across Lake Champlain to Vermont. Big thanks to my friend and coworker John being our guide to local favorites like Citizen Cider and the earth clock on Blanchard Beach.
We all scream for ice cream
The icy dessert of Burlington may be the maple creamie (don't call it soft serve, for the love of all that is holy), but Vermont is synonymous with Ben & Jerry's. The frozen treat titans have been producing highly textured and punny flavors since their start in a renovated Burlington gas station in 1978.
While the factory tour was closed because of COVID-19, the scoop shop and Flavor Graveyard were open. The Flavor Graveyard is incredible–not all of Ben & Jerry's flavors stand the test of time, so those fallen flavors are memorialized with headstone and a poem commemorating their contributions to creamery culture.
Capital, my good sir
Montpelier was less than an hour from Burlington. The capital city has a couple of cute downtown streets, but between COVID and Sunday hours we didn't get to see much of it. But the nearby area has some unusual sights. A hike into Hubbard Park took us to one of the best vantage points in town: the top of the observation tower that dates back to 1915. And just south of the city is the only floating bridge east of the Mississippi on Sunset Lake; it spans 318 feet and has sunk/been replaced 8 times–one car at a time, please.
The mountains are full of granite which has been mined as a resource in Vermont since the 1800s. There's so much of it that it's used for everything–buildings, signage, parking posts. But one of the most creative displays of local granite masonry is Hope Cemetery where every other grave features an elaborate and expertly carved granite headstone. Some of the most inventive designs aren't even occupied yet but instead markers for locals who plan ahead.
RV checkup
Rexy is still chugging like a champ. We had a few bumps along the way but also made some good repairs.
The adhesive on the entry door window wore away and the glass started to fall out mid-drive in New Hampshire. Our packing tape road-side fix worked in a pinch, but a handy dandy mobile RV glass guy was able to glue it back into place.
The RV fridge gave up the ghost in south Jersey–we woke to the charming smell of ammonia as it dispersed through the broken condenser. Mark sourced a residential replacement and it was installed a few days later. Big thanks to our buddy Heather for lending us one of the ice chests that we lived out of for a week.
A rusted front jack spring snapped–if only we had a homemade jig to prep new springs for install. Oh wait!
While in Kansas City, Mark found a hose leaking engine coolant and repaired it, and so far our coolant levels have remained constant. This may have been the source of our slow leak all along.
The water hose and spigot froze in New Mexico–I won't spoil it but a foot of snow was involved.
We got Rexy into a Freightliner garage in Albuquerque for some preventative care that was too involved for our DIY skills: replaced a hose that threatened the air compressor, replaced a bearing in one of the tire wells, and repaired a leak in the exhaust system.
Lilly's watch has ended
We always knew this day would come, but we were still surprised when it finally happened. Our Methuselah-like cat, aged 26, was put to sleep after a sharp decline in her health. We miss her lots.
What's next
Tucson, Arizona. I want to see a saguaro cactus. We're making our way westward so that we can quarantine in California before the holidays. Hope everyone has a happy, healthy Thanksgiving.